You are using a browser that is not supported by this site. The site will not function properly. Please switch to the latest version of a supported browser such as Chrome, Safari, Edge, or Firefox to use this site.
The prostacyclin pathway is among the 3 therapeutic pathways for the treatment of PAH1-3
Targeting multiple pathogenic
pathways is now standard of care4
Endothelin pathway1
Nitric oxide pathway2
Prostacyclin pathway3
Overproduction of endothelial vasoconstrictors, such as endothelin-1, and underproduction of vasodilators, such as nitric oxide and prostacyclin, are associated with PAH3,5,6
Orenitram is an oral prostacyclin-class therapy7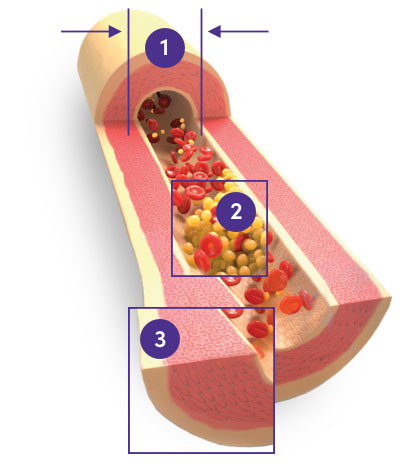 How Orenitram's mechanism of action targets 3 of the pathologic changes that occur in PAH3,7
Vasoconstriction
Orenitram directly dilates pulmonary and systemic arterial vascular beds
Platelet aggregation
Orenitram inhibits platelet aggregation
Smooth muscle proliferation
Orenitram inhibits smooth muscle cell proliferation
Important Safety Information
Contraindications
Avoid use of Orenitram in patients with severe hepatic impairment (Child Pugh Class C) due to increases in systemic exposure.
Warnings and Precautions
Abrupt discontinuation or sudden large reductions in dosage of Orenitram may result in worsening of PAH symptoms.
The Orenitram tablet shell does not dissolve. In patients with diverticulosis, Orenitram tablets can lodge in a diverticulum.
Adverse Reactions
In the 12-week, placebo-controlled, monotherapy study, and an event-driven, placebo-controlled, combination therapy study, adverse reactions that occurred at rates at least 5% higher on Orenitram than on placebo included headache, diarrhea, nausea, vomiting, flushing, pain in jaw, pain in extremity, hypokalemia, abdominal discomfort, and upper abdominal pain.
Drug Interactions
Co-administration of Orenitram and the CYP2C8 enzyme inhibitor gemfibrozil increases exposure to treprostinil; therefore, Orenitram dosage reduction may be necessary in these patients.
Specific Populations
Animal reproductive studies with Orenitram have shown an adverse effect on the fetus. There are no adequate and

well-controlled

studies with Orenitram in pregnant women.
It is not known whether treprostinil is excreted in human milk or if it affects the breastfed infant or milk production.
Safety and effectiveness of Orenitram in pediatric patients have not been established.
Use of Orenitram in patients aged 65 years and over demonstrated slightly higher absolute and relative adverse event rates compared to younger patients. Caution should be used when selecting a dose for geriatric patients.
There is a marked increase in the systemic exposure to treprostinil in hepatically impaired patients.
Indication
Orenitram is a prostacyclin mimetic indicated for treatment of pulmonary arterial hypertension (PAH) (WHO Group 1) to delay disease progression and to improve exercise capacity. The studies that established effectiveness included predominately patients with WHO functional class II-III symptoms and etiologies of idiopathic or heritable PAH (66%) or PAH associated with connective tissue disease (26%).
OREISIhcpOCT19
PAH=pulmonary arterial hypertension.
References: 1. Humbert M, Sitbon O, Simonneau G. Treatment of pulmonary arterial hypertension. N Engl J Med. 2004;351(14):1425-1436. 2. Sitbon O, Morrell N. Pathways in pulmonary arterial hypertension: the future is here. Eur Respir Rev. 2012;21(126):321-327. 3. Del Pozo R, Gonzalez IH, Escribano-Subias P. The prostacyclin pathway in pulmonary arterial hypertension: a clinical review. Expert Rev Respir Med. 2017;11(6):491-503. 4. Galiè N, Channick RN, Frantz RP, et al. Risk stratification and medical therapy of pulmonary arterial hypertension. Eur Respir J. 2019;53(1):1801889. 5. Rabinovitch M. Molecular pathogenesis of pulmonary arterial hypertension. J Clin Invest. 2012;122(12):4306-4313. 6. Giaid A, Yanagisawa M, Langleben D, et al. Expression of endothelin-1 in the lungs of patients with pulmonary hypertension. N Engl J Med. 1993;328(24):1732-1739. 7. Orenitram [package insert]. Research Triangle Park, NC: United Therapeutics Corporation; 2022.